Soldering Frames
Soldering Frames
A product range that thinks outside of the box
We design using 3D programming stations and manufacture using cutting-edge CNC machines, producing electronic industry soldering systems, soldering frames and system solutions that are optimally tailored to their production processes.

Soldering frames are primarily used to transport PCBs in solder pots and simultaneously fix through-hole components using top-hat systems. In order to withstand thousands of soldering cycles, the materials used must be able to endure high temperatures and also effectively prevent static charging of the frame.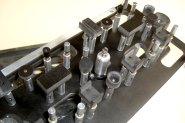 Based on client information, PCBs and drawings, ISOVOLTA GATEX drafts up soldering frame designs which then become the basis for an appropriated, elaborated milling programme for milling the soldering pallets out of CONTAVAL® special anti-static laminate.
Some cases require highly complex manual work and precise tuning of the frames, right down to the very last detail. 50 years of experience in thermoset processing and high-quality technical material production, such as CONTAVAL® GP SL, is used to adapt to the requirements of soldering frame manufacturing, guaranteeing innovative and customized soldering systems that are both highly accurate and easy to use.
ISOVOLTA accordingly meets client needs and wishes in the production of high quality laminates in the form of sheets, tubes and rods, as well as in the extensive processing of thermosets. By, for example, sawing, grinding, drilling, turning, milling, bonding, assembling, punching, water jet cutting and painting, the different materials are shaped according to individual specifications. With our expertise in specific material selection and product engineering implementation, as well as years of experience in individual, series and mass-production, an optimally adapted process is developed for each product.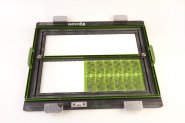 Soldering Systems and Soldering Pallets
The different combination possibilities of universal frames with a product-specific solder pallet and a flexible holding system enable the holding and alignment of problematic THT components during the soldering process, where the size and shape of the hold can be adjusted according to the holding component. ESD-suitable material is also used. The areas of the board to be soldered define the solder pallet design requirements.
Gridless adjustable struts in vertical or horizontal directions enable fixation of different sized PCBs, providing great multifunctionality.
Product Carriers
With an incorporated, self-adhesive element, these product carrying systems are widely used for flexible modules, compensating for their lack of stability, in the SMD production lines. Because of their high temperature resistance, goods carriers can be used throughout the entire production process.
Product-specific painting frames are used for single or double-sided component painting. Optimal results are achieved by intermittent fixing.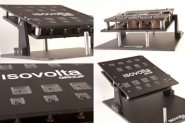 Additional Product Resources
Angle soldering devices, hand-held soldering devices, assembly and mounting equipment, as well as customized solder frame inserts for existing transport frames of all types further complement our product portfolio.
Our newly developed flex-top-hat-system, with a frame and various tailor-made components, offers multiple options and benefits. We have brought the diverse components together in an order catalogue, so that you can easily add and reorder system parts, and adapt to your newly-emerging needs.
For further information please contact us at:

+49 2272 9181 0