threaded rods - threaded nuts
Our threaded rods and thread nuts are made of special laminate Gx_11.3309 GWS Likewise conceivable is the employment of other duroplastics.
They offer a high mechanical strength with low density and they are universally usable therefore. Apart from many further operational areas they are used in electrical rotating machines due to good electrical values, for constructives components, etc.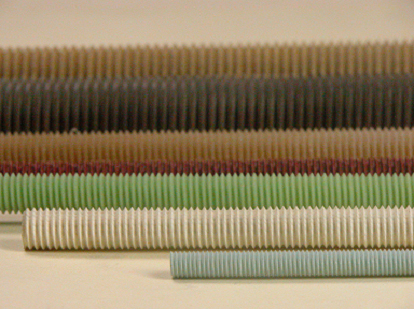 Further advantages of threaded rods and tread nuts from the delivery program of the company Gatex are:
Neither fusibly nor solubly, only weakly pourable
The heat conductivity is approx. 300 to 1000 time smaller from metal.
High measure stability owing to small thermal expansion
High corrosion resistance / chemical stability
Available in world-wide valid standard threads and standard sizes e.g.:
the metric ISO-rule-thread (DIN 13 T1);
the american-fine-threads (ANSI B 1.1);
the Whitworth – thread (BS 84) and other...
Another variant are rods, with threads on one or both ends.